4th Annual Haunted House – Halloween Fundraiser
October 30, 2017

-

October 31, 2017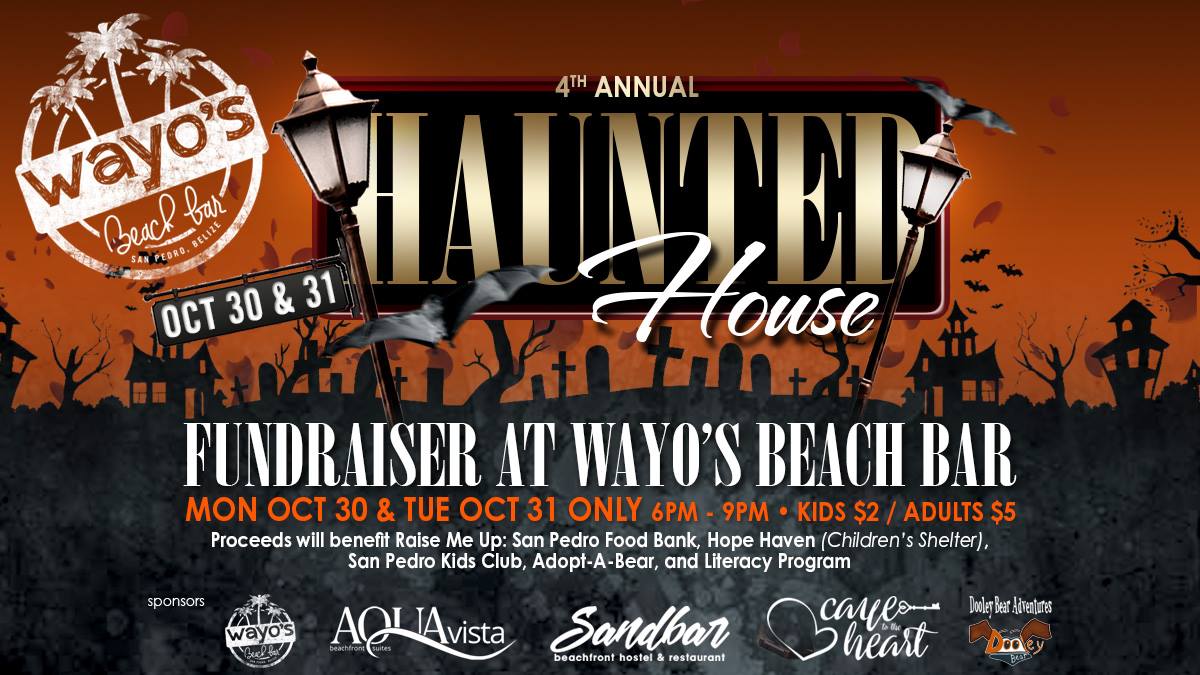 We're back at it again for the fourth year in a row… And this year's haunted house is gonna be epic! This family-friendly two-night event is going to be at Wayo's Beach Bar in Boca Del Rio, and will scare your socks off!
We are raising funds for Raise Me Up, a local organization dedicated to the betterment of Belize families in need. Proceeds will be used for San Pedro Food Bank, San Pedro Kids Club, Hope Haven Children's Shelter, Adopt-A-Bear, and the Literacy Program at Holy Cross.
We're hosting a costume contest on Tuesday (Halloween) night, so make sure to come out in your best costume; we've got some great prizes! We'll also be hosting a 50/50 raffle (winner announced Tuesday), and will have specials all night!
Admission is only $2 for kids, and $5 for adults, and there's candy involved at the end of your haunted house tour!
We'll see you on fright night (Monday and/or Tuesday); bring the kids for a family-friendly fun tour of the haunted house!
A very special thanks to our sponsors, Aqua Vista Beachfront Suites, Sandbar San Pedro, Caye To The Heart, Dooley Bear Adventures and the organizers Dee Regis, Brittney ODaniel, Eduardo Vasquez, ChiChi Rodriguez, Heather Smith, Jodie Harnish, Lisa & Ronnie Cyrier, Marisa Murphy Guerrero, Melanie Paz!
Event Navigation